Reading Time:
9
minutes
How To Create A Landing Page That Drives Conversions
"There's so much traffic to my website, yet the conversions are not proportionate to it."
"Why are people leaving my website without buying anything?"
Well, this is a common problem that all websites face. The question is: how can we ensure that this does not become a recurring problem? The key to this is your landing page.
What is a landing page?
A landing page is an independent webpage that is designed for a campaign. It is the webpage where a visitor enters after clicking on a CTA in an email or from other sources. The landing page is different from your normal website. It is designed with a key intention in mind, that is, the CTA. It is a great platform for lead generation and builds the foundation for your customer base.
The landing page is your user's first touchpoint, and the first impression counts. A lot. I'm sure you know how important it is to impress your customers, and so creating a lasting impression is key to winning the game. A rocket launches with the help of a launchpad. Similarly, conversions are further driven with a well-designed landing page.
Various elements make up a landing page, such as the headline, a CTA, images of a product, and many more. However, what makes a good landing page is the ability to implement these elements seamlessly together, not just creating a clear and neat presentation, but one that is optimized and converts.
There are many factors that contribute to the effectiveness of a landing page. What you can do is to ensure that you take the appropriate measures when it comes to each factor and optimize it.
Read on to discover how you can design and optimize your landing page for maximum conversions.
1. Creating a Compelling Headline
You only have 8 seconds to make an impression. The first 8 seconds is critical for you to create a lasting impression and prevent your visitors from leaving. Humans have a very short attention span, and that is why you need a bold, eye-catching and clear headline to draw them in.
A compelling headline will be able to grab the users' attention and encourage them to find out more about the products or services you are offering. It should tell users the value of your product or service and how you can make their experience a better one. 
Ensure that your headline is:
Short and sweet – easy to understand

Tells your reader what your product is

A subheading can be used to provide further explanation
With that, you're on a great start to keeping your users' attention, improving their experience on the site, and reducing bounce rates.
Tip: How about testing your headline using a Headline Analyzer tool to determine if it brings about a positive sentiment?
2. Let users feast with their eyes
Did you know that our brain processes images 60,000 times faster than text? This means that we have a natural inclination towards pictures than words.
What does this mean for you then?
You should take advantage of this behavior. Visual cues are an effective way in communicating with your users. They play an important role on your landing page. Compared to long sentences of words, users can easily comprehend pictures, saving them the time and trouble.
Images make your landing page more visually appealing, As the saying goes, a picture speaks a thousand words. The image used should be relevant to your website and the product you are trying to promote. If used appropriately, you will be able to communicate to your users in a more effective and efficient manner.
No one likes to read a chunk of text and doing so will only put them off. Visual cues can be used to keep your users interested, which also contributes to a lower bounce rate.
3. Use videos to tell a story
According to Wyzowl, 84% of people say that they've been convinced to buy a product or service by watching a brand's video. This means that out of 10 people, 8 will buy a product after watching a video about it. This is an indication on the strong impact that videos can have on your users. Why not leverage on it to increase your conversions and boost sales?
We understand there is a need to explain to your users what your product or Unique Selling Point (USP) is about, but explaining it with a wall of text may put your users off. While a picture paints a thousand words, a video is sure to tell a story. Videos have the ability to appeal to users and have been proven to drive up sales. 83% of video marketers said video has helped them generate leads while 80% claimed that videos have directly helped increase sales. If it is not appropriate to put a video on your main page, how about using a video notification widget? The benefits of videos are significant and you should start using them today!
4. Give Immediate Support to Your Users
When you encounter a problem on a site, would you rather sieve through a lengthy Q&A section or get real-time assistance from a chatbot? The answer is pretty straightforward.
You will choose to seek help from a chatbot.
90% of businesses report faster complaint resolution with the use of chatbots for customer service.

Source: MIT Global Survey
Chats handled entirely by chatbots have an average satisfaction rate of 87.58%.
Include a pop-up chatbot to provide help for your users when they face troubles. It is not only an effective channel to understand the problems they are facing, but also provide assistance in real-time. This allows questions to be addressed immediately and prevents users from leaving your website due to uncertainty, once again reducing bounce rates. 
A chatbot strengthens the trust between the user and your site, helping to convert your users into loyal customers. With free chatbot tools such as ManyChat and Chatfuel, you can easily create a chatbot without the need for coding experience!
5. Leverage on social proof
93% of consumers say online reviews impact their purchasing decisions.
85% reported that celebrity endorsements enhanced their confidence in and preference for a product.
Would you be more confident to buy a product that no one has purchased before or one that has been purchased by many other buyers?
It is not rocket science that social proof is also an important aspect for any website due to the high reliance on past reviews. Ask any major brands such as Amazon or Etsy. They too have long incorporated social proof into their platforms. Everyone prefers to work with a trustworthy website. Using social proof such as testimonial reviews or celebrity endorsements is a great way to build that trust and reassurance.
We, as humans, like to look to others for advice when we are unsure of our own actions, which is why this is an opportunity for websites to feed the users with such advice. With softwares such as Ping Proof, you can easily incorporate social proof through the use of notification widgets like the one shown below. Product reviews and testimonials will influence your users in a positive way, driving up conversions on the spot.
6. Impactful Call-To-Action
The CTA is what will bring your users from one stage of the buying process to the next. It needs to be designed well and placed in a strategic location to encourage better click-through rates.
Another pro tip is to spice up your CTA. If you're still using a simple "Click here", then you may want to think a little more creatively on how to better entice your users to take the desired action. Remember to test the CTA to determine which one really works well for you.
Some tips for your CTA:
Make it obvious and convincing

Use contrasting colors to your website

Send a clear message about your benefits

Use action words to create a sense of urgency

Evoke curiosity 

Personalize according to user's needs and preferences
7. A/B testing
Have you ever considered redesigning your landing page but you're not sure if it will be a good move? The thing is, you wouldn't know until you test it out. That is why it is vital that you test different versions of your landing page to see which one works better for you.
Google Optimize is a great tool that provides A/B testing solutions for free. By doing A/B Testing, you can identify the features that work best for your users and determine which version is more effective in converting users. Over time, you will be able to learn more about your users and make the appropriate changes to your website.
Testing has no limits and there is no one time where you need to stop testing. Consistent testing of your landing page will ensure that it is always optimized to its full potential, ultimately capturing more users and increasing your conversion rates.
8. Ensure that your landing page is mobile-friendly
70% of internet access is via mobile devices, but less than 50% of landing pages are mobile-optimized. It is not uncommon for people to own if not one, but multiple mobile devices these days. If you want to improve on the experience for your users and reduce bounce rates, creating a mobile-friendly landing page for the masses will be a really critical step.
While the landing page is designed to be used on a desktop, the functionality and usability should be the same as on a mobile device. Users should be able to easily make the desired action on your mobile landing page without having to make any additional effort. This not only retains your users due to a better user experience but also reduces bounce rates, creating a win-win situation.
9. Personalize for a touch of closeness
Imagine entering a website and being greeted with information that is unique to you, such as a simple "Good morning in Texas. The weather is sunny together so don't forget your shades!". Pretty impressive right? This is what we see as a personalized experience for each unique individual. It makes the user feel special and helps build a closer relationship.
53% of online shoppers believe that retailers who personalize the shopping experience provide a valuable experience.

Source: Invesp
We all want to impress our customers and differentiate ourselves from our competitors. This can be done by providing users with a personalized user experience. With Artificial Intelligence (AI) and Machine Learning (ML), it is possible to profile users and obtain basic information. And with such a feature, you will be way ahead of your competitors in providing your users with a unique user experience. 
Treating your users as unique individuals is key to winning their hearts and converting them into long-term value customers. Personalizing your landing page to target each user differently will not only prevent them from leaving, but impress them within the first crucial 8 seconds.
10. Implement an exit intent pop-up
70 to 96 percent of the visitors abandoning your site will never return.

Source: BounceX
An exit intent pop-up is triggered when a user attempts to leave your website. This is your last opportunity to bring your user back and attempt to convert them because the majority of them will never return.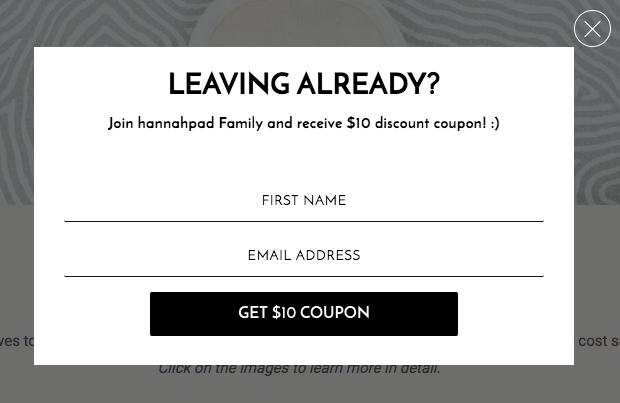 Everyone loves a great deal. Incentivizing the pop-up with a discount or offer may entice users to go through with the CTA.
This is an effective way to reduce your bounce rate while increasing your chances of converting your users into long-term value customers. This also appears less aggressive and intrusive compared to the pop-ups upon arrival into your website, which may come across as an aggressive attempt by users. Although it is crucial to draw users in, it is also important to not push them away.
Final Thoughts
It is not an end game once you set up your landing page. There are always continuous and further improvements to be made. Optimizing your landing page is part of the process. Through testing different versions of the landing page with different groups of users, you can determine which works best for you. What works for one may not work for others. Now, remember this is a continuous process. Not a once-off procedure. 
Of course, if you take into account the above advice, you will be en route to creating a better landing page that not only minimizes the bounce rate, but also one that converts. Some of the suggestions given can be done in a matter of minutes, in the case of social proof. Check out Ping Proof for a suite of notification widgets that you can add to your website in a few easy steps. Request for a 14-days free trial with us today!
Get started with your free checklist for a stunning landing page.
We're committed to your privacy. Ping proof uses the information you provide to us to contact you about our relevant content,products, and services. You may unsubscribe from these communications at any time. For more information, check out our Privacy Policy.